Star Valley & Wyoming deserve far better than This
This Facebook Post was false.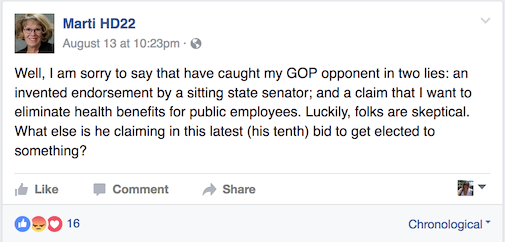 Once I learned of the above false posting I went back to the only person it could have come from. Here are his Facebook message responses: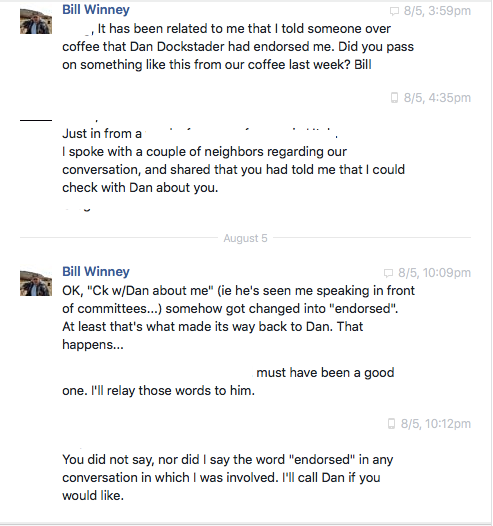 These make it clear:
1st I did not say what was alleged
2nd No one sought to check or verify what was said.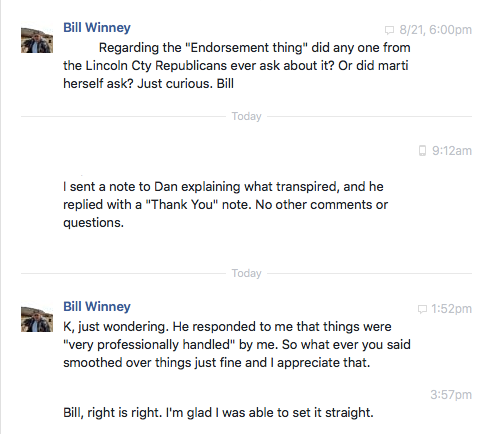 The question facing Star Valley, Teton County, & Sublette County voters is starkly clear: can you trust this person. Will they actually do what they say they will do when they get to Cheyenne.
The second question is as a conservative this candidate proposes to be a keeper of core conservative values. The above does not jibe with such values.
Hotel California
Whose Ox will be Gored
in the coming General Session

As Wyoming's Legislature deals with the reduced revenues where will the money come from to keep promises made over the years? Here's a look into how CalPers (California Retirement Systems) does business with two sets of books: Hotel California, you can checkout any time but you can't leave

During my summer campaign I spoke to protecting certain areas... and was called a budgeteer out of the 30's... Yet it is always the way of those in the financial world to figure out how to transfer costs to others. If they can do it in a seemingly non-monetary fashion while reducing expenditures they'll take it every time.
What our legislature faces come January is 'realpolitik.' How do you fund all of those vastly necessary things without dinging someones funding stream. Well you pick those least able to come back at you in the next ballot box.
Out of the 30s?

My Service as a Commanding Officer
of a Nuclear Submarine

I have now heard a rumor that it was spread during the summer primary campaign that I had not really served as a Commanding Officer of the USS Benjamin Franklin (SSBN 640)(Gold). That somehow I was just making this up to impress people. The SSBN designates her as a Nuclear Powered Fleet Ballistic Missile Submarine.

Go to www.ssbn640.com, then click on the "640 Roster" on the left side of the page. Then scroll down alphabetically. You'll find me there. Serving from1988 to 1991.

'Nuff said.

Donald Trump's Women's & Families Initiative
Last May, shortly after the Republican National Convention I penned a letter to the Republican Nominee for President of the United States. One of the issues I felt important to him was that of how women are treated in the workplace and my letter addressed that from the perspective of a perception I developed in the summer of 2014 in campaigning across Wyoming.
Very simply about halfway through that campaign I began to sense what I called a 'subterranean anger' in the women I spoke to at the many, many doors I knocked on. This anger was very simple and straightforward: Women feel that they do some heavy lifting within society in bearing and raising children and supporting families. Frequently they end up as a second breadwinner within a family. The end result of this second breadwinner role is that their careers do not develop.
Candidate Trump has now published a plan regarding families and women. I am heartened that he has done so and can only hope that my letter may have had a teensy-tiny smidgeon in forming his thinking. Here's that portion of my letter:
"In the summer of 2014 I campaigned statewide in Wyoming for Superintendent of Public Instruction. Although I didn't win I noted something that I feel will be critical to you in winning over women voters.
"I hit something on the order of 17,000 doors across all of Wyoming. Not every house had someone home, but you can figure the hit rate for talking with people at their door.
"About halfway through my campaign I began to develop a sense of how women think about their relationships with men. Quite simply there is a "subterranean" anger. Women feel that they are not given a fair shake in the world in general. They feel they do a lot of hard work in raising the next generation, keeping themselves out of the mainstream (in my observation within my marriage a baby takes about 5 years from them). They accept that as part of raising children.
"But they expect to be able to re-enter and, based on their ability and performance, be accepted and progress in their profession. But they find all sorts of subtle barriers in their way including the legal system which they sometimes resort to when treated poorly.
"Women operate in the workplace differently. They are the workplace organizers, they find solutions and make the system around them operate better, and they are those that make the social side of businesses operate more smoothly. In contrast, the workplaces they all too frequently face have been organized by men who ascribe to Napoleon's dictum: a commander does not seek a bigger tent, he seeks a bigger command. Yet, in contrast, many women seek to make "their command" work better and more smoothly.
"In essence women just "suck it up" accepting that as the price of bearing children. Yet they remain angry.
"So how do you fix this? You find those subtle barriers and strike them down. I observed and assisted my wife in her efforts against an ungrateful school system. Yet at every turn the system gave what I believe were dishonest administrators a pass while holding her to a higher standard.
"I served 30 years of Active Duty in the Nuclear Submarine Force. My DD-214 reflects 30 years and 24 days of active duty, she was my wife for 30 years and 22 days (and still is my wife). I have been disgusted by the recent dishonest treatment she received and the more so because during our 19 moves in 30 years, she had little time to develop a career. She did the best she could as we moved around, but in the end when convenient for administrators her frequent moving was held against her instead of being seen as her bringing vast experience to the table.
"Once she did begin to develop a career, for example making National Level Conference presentation in the Reading and Literacy field, she ran up against a system designed by administrators (mostly men) to "keep teachers (by far mostly women) in their place." Every level of Wyoming State government and the NEA were useless. They all hid behind various chimeras or buzz phrases as "local control" or "right to work."
"You want to fix education? Make the system treat teachers as professionals (a good system for this is the US Public Health Service where doctors readily find themselves working under nurses). If you talk with teachers you'll find disrespect for most administrators (who all too commonly have far less blackboard time). You'll hear teachers say things like "so what's the flavor of the week" referring what is the new shtick by their administrator."
Good luck Donald Trump, there is still some heavy lifting to be done here.

Proud to be one of Les Deplorables

Just saw this on Fox News...
Someone has done a takeoff on Victor Hugo's Book about the French Revolution "Les Miserables" and for those who may have struggled through reading his book in HS English in years past it's just too good to pass up.
Les Deplorables... Those of this nation who believe in conservative principles and the constitution. Just saw this on Fox News... Proud to be one of Les Deplorables!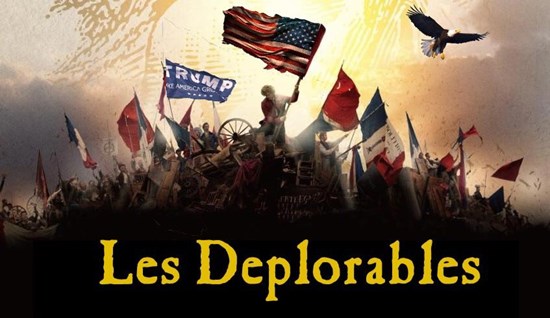 Thank you.
There were many people who greeted me warmly at their front doors as I traveled the district. We had many good conversations and I learned things along the way. Good, tough questions always cause me to learn things. About the people, about their needs, and most importantly about how they view the future and what they expect of Cheyenne.
Thank you to all of the people of HD-22. There were very few "grouches" in the district, a few to be sure, but many, many who want a functional legislature.
Thank you!

Bill Winney
News Flash
I have gotten wind of something...
About two weeks ago I had coffee with Greg Erickson of Etna. He then spoke with some neighbors. It later came back to me via Dan Dockstader that someone had attributed to me saying that Dan Dockstader had "endorsed me." Not so. I closed the loop with Greg Erickson on this and he responded:
"Bill, You did not say, nor did I say the word "endorsed" in any conversation in which I was involved. I'll call Dan if you would like.
Greg"
What ever has been said about this is hearsay and untrue.
Leadership
I believe that leaders are obligated to go to the people and talk with them directly. It is not enough to talk with other local leaders. One must go to the people, listen to and compare their needs and views with others. Then put these into action. One must be careful about going to a smaller, comfortable group of people. You only hear what you want to hear when you do that.

I have gone to many doors throughout the district and been received warmly. Thank you. What I hear is frustration with the process. Somehow what seems to happen is an agenda plays out, not what the people want.

One hears ground truth at the front doors. There is no audience to play to, no friends to assure of like mindedness, just what a person thinks. Be assured that I will carry your messages to Cheyenne.
I ask for your vote tomorrow, Tuesday, August 16th in the Republican Primary.

Hard Working Veteran & Republican
As I see things there are three big issues facing Wyoming: (1) dealing with the large reduction in revenues, (2) getting education on track, and (3) ensuring that Wyoming does not seek a tax increase as a fix for the revenue problems.

Making these things happen means HD 22 must have a powerful Republican voice.
Wyoming's revenues projected in the CREG report (April 2016 update) are starkly declining.
The core of the primary campaign season is that many, many people have had enough of politicians that say one thing at home and perform differently in Washington (or Cheyenne). The core of how I do business is to go to and meet with people. I listen and compare then put what I hear into action. That is my promise to you as I talk with you at your doors.
I believe my opponent's record is clear: empty rhetoric and harsh conservatism.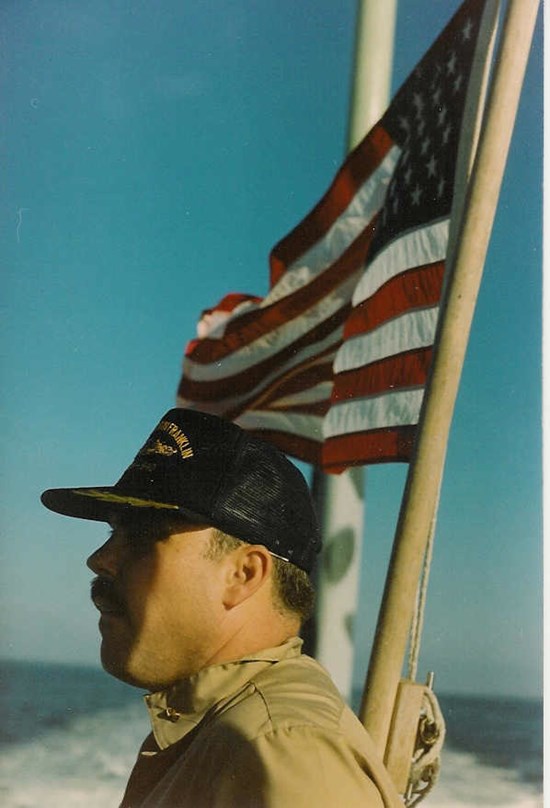 Throughout my 30 years of active duty in the Navy I had a strong ability to look beyond the horizon and recognize problems and get them fixed before they became problems. I did this primarily by looking hard at how I did business and how the policies and procedures I put out affected my people. I paid great attention to what I said ensuring that I did not speak in hollow language with no capability of putting things into action.
In our case the horizon is now and shows limited state revenues. Comfortable talk-talk won't get us where we need to go.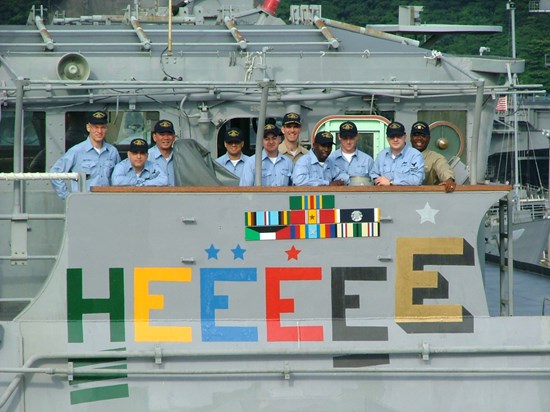 Everything I did throughout my career was done through people. Say it any way you want to: the people did the hard work. In this picture to the right of another ship's crew, the crew members of the USS Chancellorsville in 2014 show off their awards. They did the work!
My first initiation to budgeting was in 1985 where the early flush Military budgets turned over and vast reductions in those programs were on the way. Later in my career I managed large funding programs. For two years I served as the Program Director for the Virginia Class Attack Submarine Program. One submarine in acquisition has a budget almost as large as the Wyoming State budget (and there were between 6 & 8 in production at any one time).
One important skill I developed was the ability to interact with the legislative process. I've used this skill as a private citizen in front of our legislature, most recently speaking up on education issues. I earned the Competent Toastmaster Certificate and it has made a real difference in my ability to speak and convince in settings such as Public Comment in front of our legislature.

This past Budget Session I spoke up on behalf of Military Spouses and was then invited by the Committee Chairmen to submit a topic for interim studies. I am now working with the Adjutant General's Office developing this. I was honored with this as I did not expect my words in front of the committee to turn into an invitation and then become a real topic.
Private Citizens can make a difference.

News
Friday, August 12, 2016 12:38 PM
The NRA's Political Victory Fund has rated me as Aq in their candidate ratings. I'm a long standing NRA member with a solid view of the Second Amendment. I believe it is quite clearly worded.
---
Friday, August 12, 2016 11:40 AM
The article incorrectly states that I support decriminalization of Marijuana. The question was specifically about medical marijuana. My response was that when the medical community finds marijuana has a place or utility in medicine then laws should follow. That is not an endorsement of decriminalization.
---
Thursday, August 11, 2016 5:39 AM
JHN&G Published positions on key issues.
---
Wednesday, August 10, 2016 8:18 AM
Recap of candidates for House District 22.
---
Wednesday, August 10, 2016 8:02 AM
In this article the author doesn't get my position correct on Public Lands. I believe that federal lands should be returned to the states. I find the premise that states cannot properly manage lands is wrong. Read down and look at what I actually said in responding to their question.
Curiously, this paper, in contrast to the JHN&G, did not ask any in depth questions. For example 'Why are you running?' All PJH did was forward 5 questions for response.
They did review my website and capture the essence of why I'm running: My opponent's harsh rhetoric and empty words. Her record in the House is one of ineffectiveness.